Yeah, I know.  The Shadow came out Thursday afternoon, it's early Saturday morning, and I have ten hours on it?
You bet I do.
Here's my thoughts and observations on it.
Unwrapping the Shadow is typical of any TMS boat product. Boat, boat HUD, texture pack, a race pack, a set of little beach wheels – sort of trailer, and several notecards with info and the manual. Not much special there.
The boat itself is really a nice looking cat, even a quick look around will convince  the most critical person that the meshing is a class job .The boat is absolutely laden with well-done detail.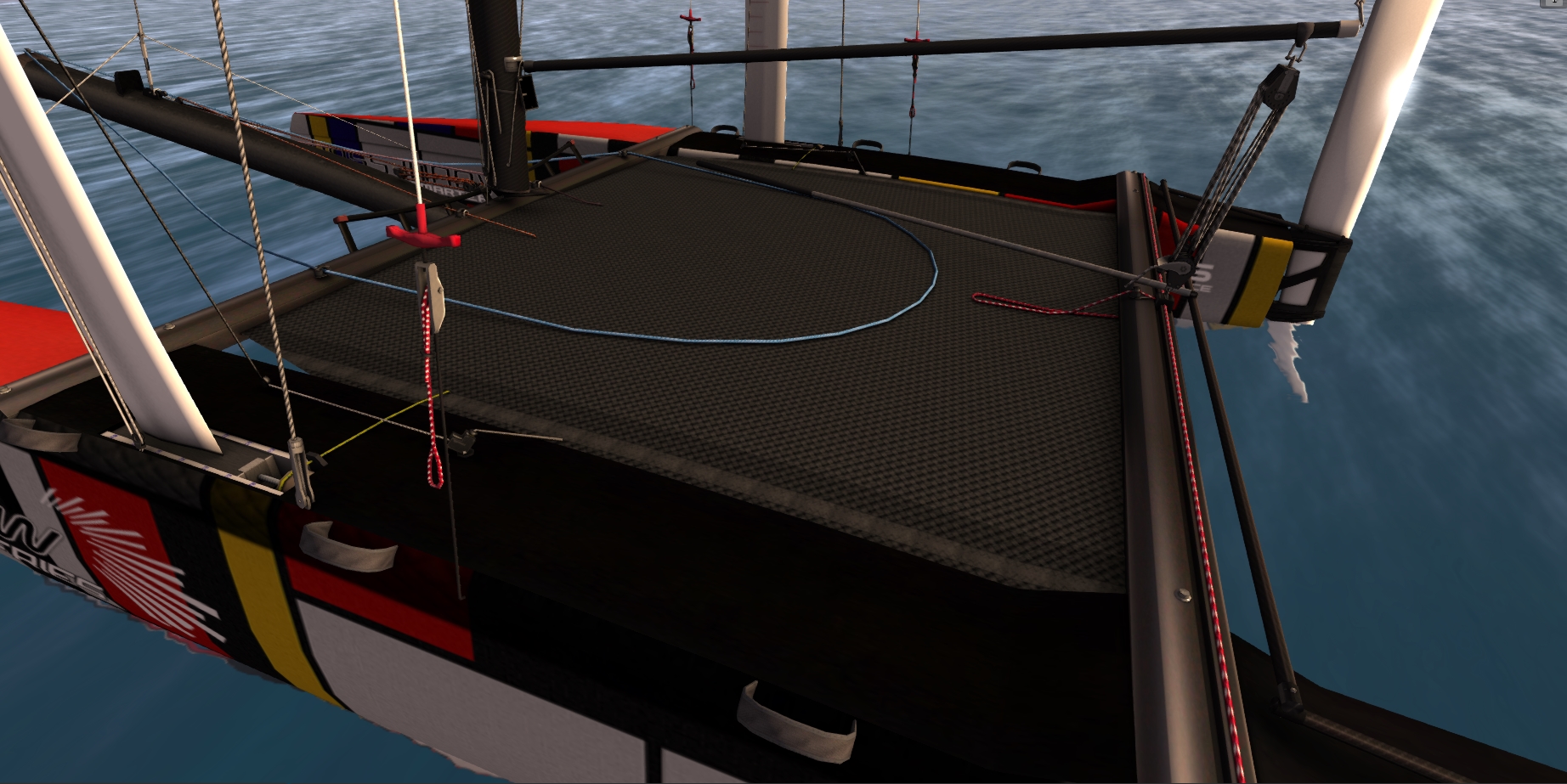 Details Galore
The HUD is typical of TMS / Bandit boat products, anyone familiar with any of the later boats will immediately understand the HUD and use it with ease. My only criticism and recommendation for the HUD would be a change of status indication with the dagger boards. (There is none, more on that later.) I have no doubt that someone will eventually come up with a skip HUD that will perform this function.


Hud – Nothing special here please move along!
Getting started, sailing the shadow is easy and straightforward. It's based on the BOSS 3 sailing engine first seen on the Bandit IF Folk boat, same basic keyboard and chat commands, but with additional commands for the left and right dagger boards. Saying "help" while on board, brings up the command list should you all of a sudden need that seldom used one.
The Shadow uses the same system that people have seen in the past for wind. In a cruising mode, one can set the wind speed and direction by verbal command.
( Again, I'm sure that given some time there will be a HUD that does that as well.)
With racing, it comes from the TMS / Bandit Ipad 2.  The ipad method does give additional information back to the Rd, therefore aiding in identifying participants that may want to attempt to "game the rules".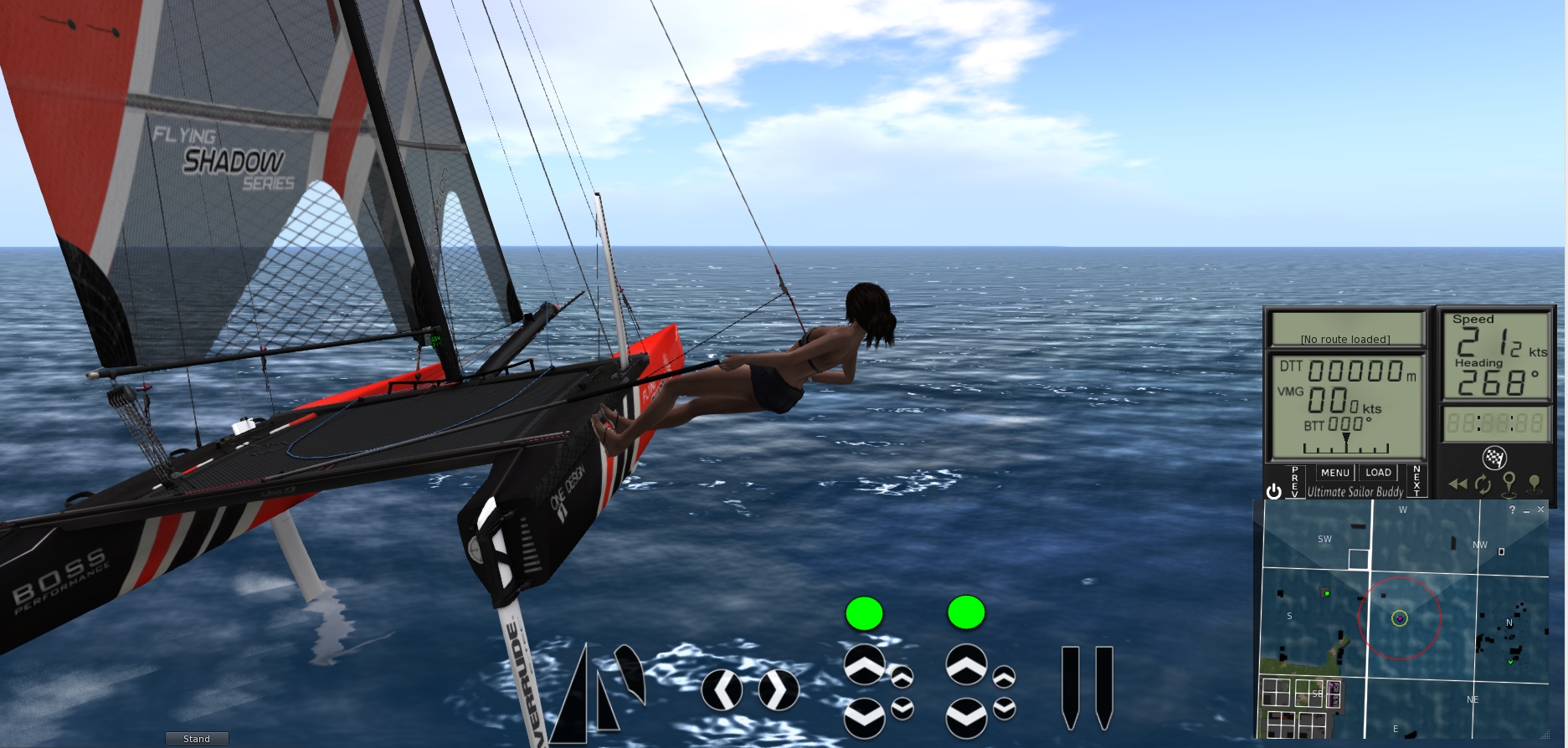 Wind at 15 knots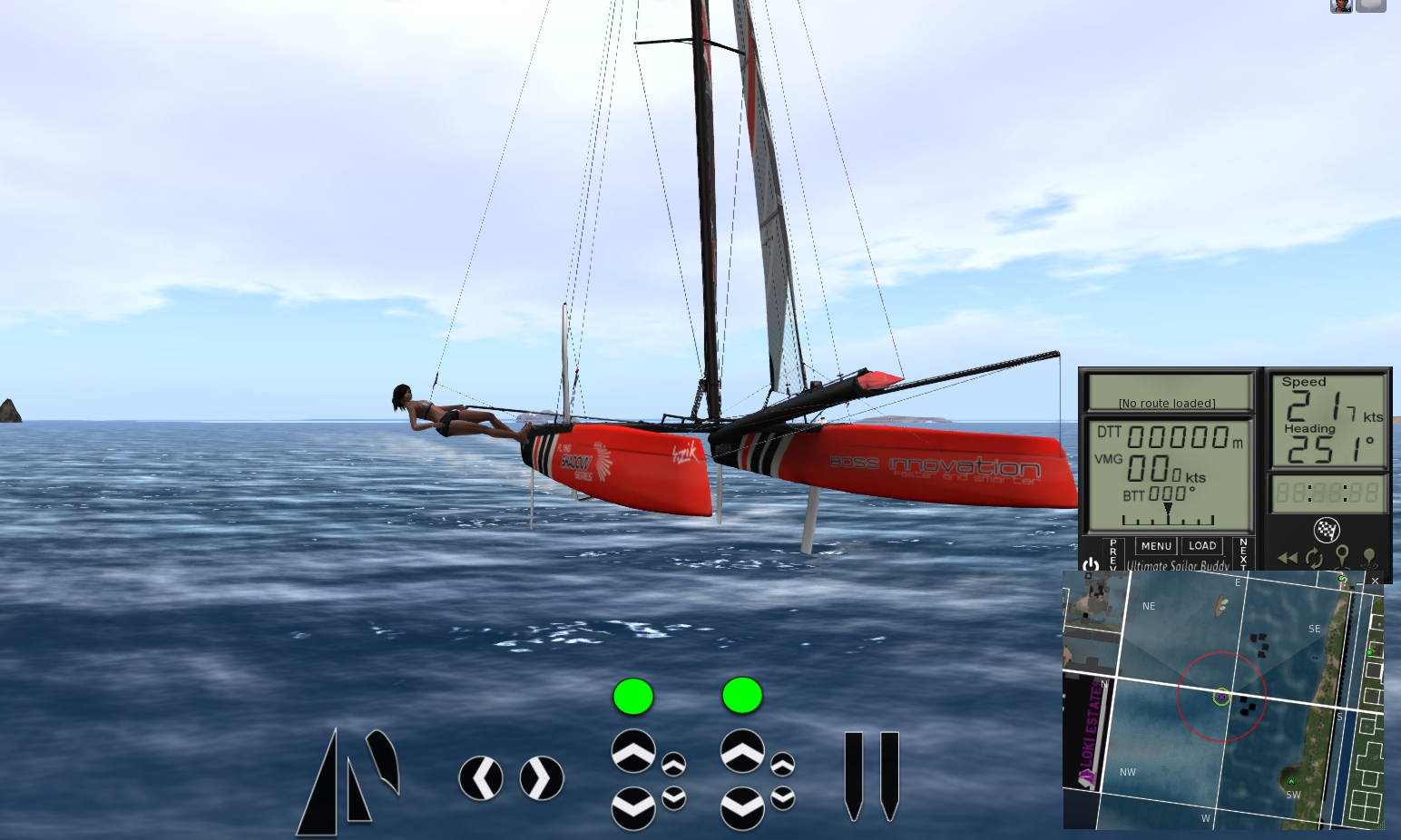 Wind at 15 knots
Sailing the Shadow is fairly easy, and pretty exciting. The boat can accelerate pretty rapidly; similar to its RL counterpart, and under the right conditions, fairly easy to get out of the water on the foils. This is where the dagger board indicator would have been nice. Under speed, and in some cases, I was moving at 20 knots with just a 15 knot wind, and things can happen pretty quickly. Although the Shadow can be operated by one skilled person fairly well, things can happen fast under race conditions and remembering which dagger board is up or down can make a big difference of turning or turning over!
As with the first boat with the BOSS 3 system, the influence of weather helm is apparent.  If you have sailed older, less realistic cats such as the AC45, heading into the wind was not much of a problem and one could go at it at a 25 degree angle, perhaps less. Not so with the Shadow. Although tighter than a folk boat, it's still going to keep you honest; as it should. Expect no less than about 32 degrees to keep your speed to a respectable level. Any less and you will quickly find yourself in irons, and it's not pretty recovering!
One facet I did find odd was that the "autopilot" feature was included with this boat. I can understand in a boat like the folk boat or other larger sailboats, however I did find it a bit odd for this sort of Cat. To each his own I guess.
Another thing I did like was the animations when sailing the boat. They were fast and crisp, no real lag waiting when doing multiple things like bringing up one dagger and dropping the other.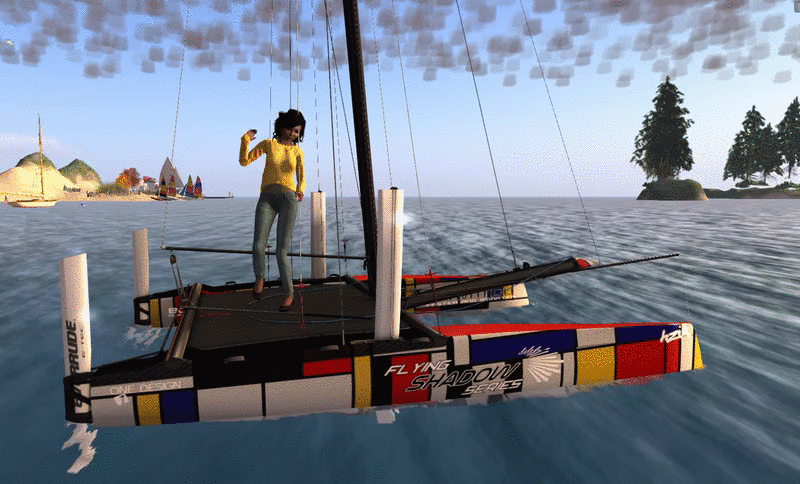 Yup I'm happy with this boat!
Many other animations not particularly associated with sailing are also included. A couple of sunning and dancing animations are nice and well received. And although I'm not against a little "pixel rubbing "on boats occasionally, the inclusion of them on this one I found a bit ridiculous. Perhaps that was a bit too much value added features.
In all this is a boat worth adding to your inventory. Its hot looking, sails well and is faster than almost anything out there, and more realistic doing it.
Just reading the note cards and making snap judgments without actually trying this boat only results in your loss. This is a hot boat and I have no doubt at all its going to spawn many a race.
Ten Hours Sailing the Flying Shadow – My Impressions